computing digital art
we love a budding industry, especially one that has girls all up in it. After clocking Pitch Studios on "the 'gram" we had to know Christie morgan. Lucky for us she was visiting London & we thought no better way to connect than a panel with her & the talented Lucy Hardcastle. Get to know how they're making mad money in online art.
The Panel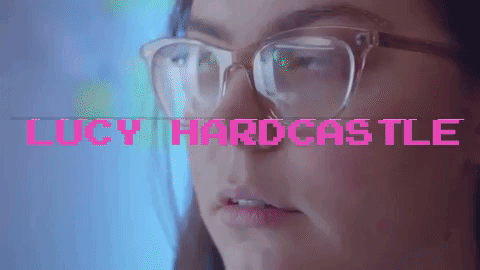 Lucy "is a London-based interdisciplinary designer and digital artist. Her work focuses on tactility, visual illusions and sensual aesthetics through digital rendered pieces, sculpture, set design an moving image. Her current projects aim to bridge the highly digital and physical aspects of her practice to produce immersive experiential pieces." (source)
Clients: Chanel, Nike, Alexander Wang and Levi's
Christie is a Melbourne-based designer, content curator and the director/creative director of Pitch Studios. The PS focuses on the creative direction of visual experiences and mostly work across 3D animation, interactive design, creative activations/installations, boutique apps and more. (source)
Clients: Nike, Tate, G-Star RAW, Ghost Fragrances, Warner Music, Acne Studios
1 // WORKING relationships
BIG BRANDS ARE COOL…
Christie: "Being able to work with a brand like Nike… it was a really amazing experience. If you have a chance to work with a brand like them you always say yes."
Lucy: "A lot of people know me from my project with Chanel… it was my baby."
… BUT THEY CAN BE tricky TO WORK WITH
Lucy: "That Chanel project took a long time, probably over a year in the making."
Christie: "When you work with a global company there are so many layers of approval that it can be a lengthy process even if you have a short deadline."

MAKE SURE YOU'RE 'SPEAKING THE SAME LANGUAGE'
Christie: "We're working on this thing called the Pitch Club to help people to learn how to sell their ideas. Marketing managers are so focused on the ROI of an idea, it can be difficult to explain the value of what we do.
I've been trying to spend more time with people like that to understand the terms they use, so that I can communicate my ideas to them in a way that they understand. If you have someone who can break down the technical stuff well, bring them along to a pitch."
Lucy: "It can take a really long time to find the right people that mesh with what you do. I try to treat every client as an idiot so that there's no assumptions and no room for confusion. You need to give them as much information as possible but find a way to make it digestible."

ELIMINATE AMBIGUITY
Lucy: "Sometimes clients call me meticulous with my feedback, but it's just about removing the margin for error."
Christie: "It's all about communication: all the time communication."
COLLABORATE WITH OTHERS, ESPECIALLY WHEN YOU'RE JUST GETTING STARTED
Lucy: "When you are trying to build something on your own, it will always feel like a rollercoaster."
Christe: "It's important to collaborate with a lot of other artists. Have a network of other freelancers that you can scale up and down with each project."
BE DISCERNING ABOUT WHO YOU WORK WITH
Christie: "Create a brand philosophy or principles to help define whether you can work with certain clients."
Lucy: "I always ask myself, will this work challenge me? It's really important for me to be challenged in each new project, otherwise it gets really repetitive."
ADD ADDITIONAL VALUE
Christie: "A lot of what we do can be about educating clients, especially if they haven't done what we do before. Sometimes they just have to trust you, but that's why they come to us: we use intuition a lot."
Lucy: "One of the struggles is finding out how to create longevity for brands, and I think we're still figuring that out."
SELL YOURSELF
Christie: "Even if you're not pitching formally, sometimes it's just about going to brands and saying, 'hello, this is what we do' and getting on their radar."
Lucy: "You have nothing to lose by reaching out to people, you just need to look at it that way."
ALL PITCHES ARE VALUABLE
Lucy: "Pitches aren't a complete waste of time if you don't get them, you can always archive the ideas and use them later. Out of my entire inbox, only about 25% of the enquiries actually end up happening and go all the way to the end."
Christie: "Keep pitching your ideas out there until you get to the point where you don't need to anymore."
DON'T FORGET ABOUT 'IRL'
Lucy: "Don't expect anyone to stumble across you: you have to do your own PR."
Christie: "I force myself to go to at least one tech/networking event a week... a lot of the work we do wouldn't be possible without IRL referrals, they make up about 60% of our work."
BE SMART ABOUT INVOICING & FINANCES
Christie: "We usually take a deposit or make a payment plan to ensure clients don't just drop off the face of the earth when it comes to payment."
Lucy: "If you need to, you can ask for a pitch fee upfront."
KNOW YOUR WORTH
Lucy: "In the long run, I haven't regretted any of the work I've turned down. I try to see it as believing in myself."
Christie: "If you always do things for free or low value, it can be difficult to convince old clients to pay more. If you have a rate, increase it every year: your skills are improving all the time."

WHERE DO YOU SEE THE FIELD GOING?
Christie: "We're working with global brands to try to encourage them to change the way they work. What we want to do is sell an experience, and really create a connection with the brand, rather than promising solid KPIs like sales."
Lucy: "I try to follow a range of different people on Instagram to see what's happening next, where trends are moving. Collaboration is so key to working out where the next medium will, and I try to take inspiration from a whole range of different angles."
Christie "They don't teach you these practical skills in school, and that art and design can be profitable."
Christie: "Art drives taste and taste drives consumption... Art is its own currency and you can use it to be the valuable piece."

SET YOURSELF APART
Christie: "Experiment. Teach yourself thing. I really find value in people that do things differently. Then you'll have a wider scope than a lot of people. Room to grow is really important."
Christie: "Projects that aren't for brands (personal projects outside of commercial gain, especially ones that utilise new technology) can be used as a showcase for new clients."
Lucy: "We try to set aside a day a week to do R&D."

What an awesome evening
Thank you to everyone who came through, especially the 4 BOYS! It takes some chutzpah to attend a girl-branded function. But FYI - fgc is for all since feminism is a two gender ting, ygm xx Boys are always invited!
We loved bringing London's virtual art community together - though, we were down Natalia Stuyk. Can't wait to champion her in the future.
Big thank you the event babes!
Libby your stories were FIRE & Rachel thanks for co-writing this post
(BTW they're both for hire so nab that talent #ShamelessPlug)
Shout out to Mindspace for the venue & set up
THANKS SEE Y'ALL soon
chapps x